A baked potato, or jacket potato, is the edible result of baking a potato. When well cooked, a baked potato has a fluffy interior and a crisp skin. It may be served with fillings and condiments such as butter, cheese or ham.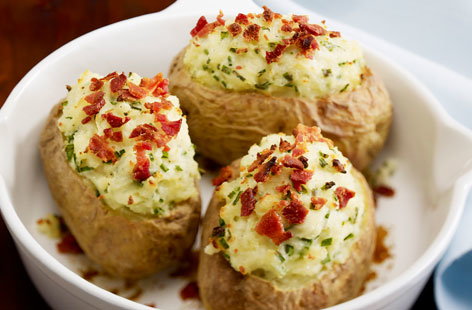 20-30 minutes, Cooking time: 1 1/2 hours
3-4 tablespoons vegan margarine (I use Earth Balance)
salt and pepper, to taste
4 slices vegan ham or bacon, minced (I used Yves deli ham slices)
1/4-1/2 cup nutritional yeast
3/4 (8 ounce) container vegan sour cream (I use Tofutti Sour Cream)
1/2-1 cup unsweetened nondairy milk (I use soy)
How to make Baked Potatoes?
1. Preheat oven to 350 degrees F. Bake potatoes until done. Let them cool for at least 1/2 hour, so you can handle them. You could also use leftover potatoes, or bake ahead of time, it is just easier to mash them when they are still warm.
2. Saute the onion in the margarine until translucent, add ham and saute for a few more minutes. Take off heat.
3. Cut potatoes in half lengthwise, and scoop out as much of the potato as you can without trashing the skin. Add salt and pepper and mash potato with masher or whisk until most of the lumps are out.
4. Add ham and onions, nutritional yeast, sour cream, sliced green onions and milk. Adjust salt and pepper as desired. You do not want this too stiff, so add more sour cream, margarine or milk until the filling is like a thick mashed potato.
5. Fill potato skins and bake for about 30 minutes, or until nicely browned on top. Garnish with chives, if desired. If you make them ahead and bake from cold, you might need more baking time. You could also make these and freeze.
Enjoy this delicious recipe......